Walmart deals today....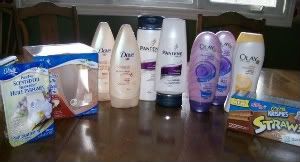 I can't begin to tell you all how excited I am today about the deals I got at Walmart. It even made my husband smile. I also had a wonderful cashier at Walmart.
Kelloggs cocoa krispie straws... reg 2.97 sale 1.47 coupon 0.75off paid $0.72
Glade wisp flameless candle reg. 9.98 coupon 1 FREE paid $0.00
Glade scented oil plugins reg. 5.87 coupon 1 FREE paid $0.00
Olay body wash reg. 4.97 *PM 3.99 (x3) coupon $10off paid $2.97
Dove body wash reg. 4.72 (x2) coupon B1G1 paid $4.72
Pantene reg. 3.00 (x2) coupon 2.50(when buy 2) paid $3.50
regular price total... 49.17
sale price total... 44.73
coupon total... 33.82
Total paid... 11.91
I plan on using the glade candle products as gifts coming up when I do some gift baskets up. I really can't believe how much I saved today... I also have more lists and coupons to use at other stores we shop at if we are near them this week. I am not going to go out of my way to get the deals... I figure if I am in the area doing something else than I can stop in otherwise I would be wasting my gas getting the deals.
*PM = price matched