Kernel's Popcorn.... copycat recipe
This is the copycat recipe I used for kernels popcorn. I was looking for a recipe for something easy for my daughter to take to her friends for a games night and I thought this fit the bill perfectly.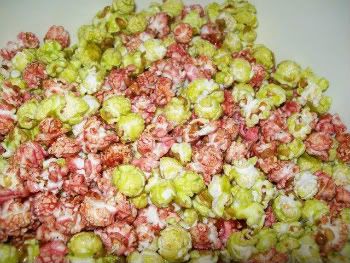 Pictured above is Lime & Cherry popcorn
Ingredients:
1/3 cup margarine
1/4 cup honey
1/2 cup sugar
1 small package Jello (flavoured gelatin mix)
10 to 12 cups popped popcorn
Directions:
1. Combine honey & margarine in a microwave safe bowl. Microwave until melted.
2. Add sugar & Jello powder. Stir. Put in microwave and cook until it comes to a rolling boil (doubles in size).
3. Pour over popcorn in a large bowl. Stir to coat.
4. Place on greased baking sheet(or line baking sheet with parchment paper) and bake at 200 degrees 25 minutes F for , stirring every 10 minutes.
5. Cool & break apart. Store in airtight container.
**Today I made lime and cherry... perfect for christmas. So far Lime is my favourite.