$1 - for a cute bag/purse - handmade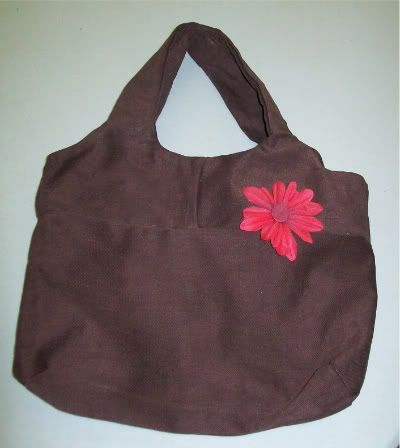 I attended a sewing circle at our church on Saturday morning.
We all purchased some fabric 1 1/2 yards to make the bag above or was it almost 2 yards.
Anyway it was not in my budget to go to Fabricland or Baskins (local store) for fabric. Our income is very limited so I have to be very wise with my spending. So off I went to BFM (Bibles for Missions) to see if they had any fabric I could use. I know they have fabric but I was looking to strike it rich with choices. Well low and behold I found this brown cord fabrics for $1 and purchased a complementary fabric for the liner for $1. I know what you are thinking the purse/bag then cost me $2 right well nope... I have enough fabric leftover to do another purse/bag which I plan to make. So then the purse cost me $1. It was so easy to make. Once you make one you can make many more. I am really thinking about making the bottom part (bag part) larger in the next one I make so I have more room to put stuff.
Thought I would share my sewing circle project with you all.