Ranch Hamburgers
These tend to be a favourite here at my house they are so yummy!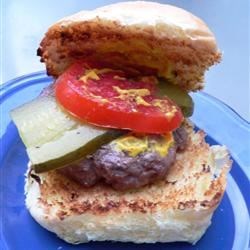 2 pounds lean ground beef
1 (1 ounce) package ranch dressing mix (I use the recipe
here
and put in more than one package worth)
1/2 cup crushed saltine crackers
1 onion, chopped (can be substituted with onion soup mix and if so leave out crackers)
Directions
1. Preheat the grill for high heat.
2. In a bowl, mix the ground beef, ranch dressing mix, crushed crackers, and onion. Form into hamburger patties.
3. Lightly oil the grill grate. Place patties on the grill, and cook 5 minutes per side, or until well done.
These burgers are so so so good... oh I said that... everyone that has them just loves them. I usually top them with tomato and lettuce. Great flavour!