If you have a payless near you check it out!!!!!
You really need to check it out.... seriously!
I scored some awesome deals for my daughter and me too!!!
They are end of season shoes but ask me if I care... and I can tell you my daughter doesn't care... three pairs for her... thanks to her growth spurt... she needed size 2 now... and a pair for me... because I couldn't pass up the price.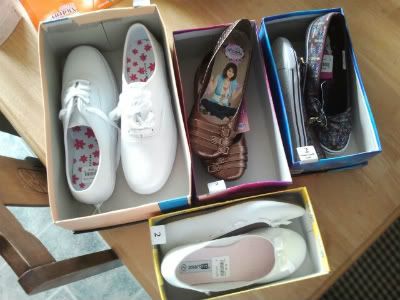 here is what I got:
White shoes for ME (like keds) reg. $32.99
White dress shoes (daughter) reg. $27.99
Copper flats (daughter) reg. $34.99
Brown slip on runners (daughter) reg. $29.99
total reg. $125.26
and I paid.... are you read... $6.43 for all 4 pairs!!!!!!!!!!!!!!!!!!!!!!!!!!!!
That is less than $1.61 for each pair of shoes!!!! SCORE!!!!!!!!!!!!
*NOTE - I am in Canada, Ontario to be exact!*