Storybook Gardens in London, ON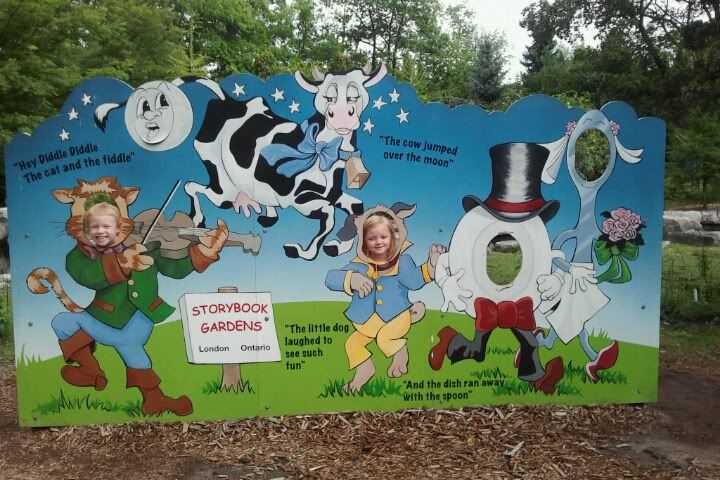 My Review:

Today we left first thing in the morning to get to Storybook Gardens before it got to busy not that I was expecting it to be busy on a Thursday morning. I was taking two children to enjoy some time at Storybook and I hadn't been there in about 16 years... it had surely been a while.

Storybook Gardens is an outdoor amusement park for children, young children if you will. It has some storybook feel to it, you get to see humpty dumpty and the old shoe the lady lived in with all her kids but as far as the old Storybook Gardens I remember well that is just a distant memory. It was $25 for a family pass (2 adults & 2 Children) to get into the park and splash pad. The kids walked through Storybook Gardens... we went into the mini barn and seen some goats, sheep, donkey, bunnies and of course ducks all over the grounds.

Then we came to the pirate playground that is just like a very large playground.... kids running all over... and playing until their hearts content. For the children I can see that they love it there but then again most children would love to go to a park that is new to them and play. It is something different and isn't something you do every day. Then we made our way to the splash pad.... where the change rooms were a wonderful size, you could fit in your wagon and stroller very easily if you have one with you. I was very impressed with the changing facilities.

The children I brought loved the park. But I guess I am looking for more bang for my buck so to speak. For $25 I was looking for I guess more to do and not just a glorified park with a splash pad. I could have saved the $25 and just taken them to a different park then we usually go to. Speaking of that, I do believe that Waterworks Park has more to offer than Storybook Gardens did and it is completely free.

Next time I will keep my money and just take them to a different park than our usual one. But I did see how excited the kids were and the joy in their eyes but I am just thinking I can get the same thing with a lot less money. Guess the frugal girl I am just seen it as a waste of money but not a waste of time because the kids did enjoy it.

Storybook Gardens is located in London, Ontario in beautiful Springbank Park.

I am sorry to say that I probably won't be doing a return visit to the park. Just didn't see spending the money on it.