Get some "Snap Crackle Pop" ... into your morning
I have very fond memories of waking up every morning to some Kellogg's Rice Krispies. I just love how they sounded when I put milk in my bowl all the snapping, crackling and popping. I would make up songs to go along with the sound of my Kellogg's Rice Krispies.
I was invited along with other bloggers to join Kellogg's Network in Canada. Each month we will receive some Kellogg's goodness to share with our readers that being you! I was so excited to join the Kellogg's Network because we have been purchasing Kellogg's cereal in this house since the beginning of time. It has always been a staple in our house.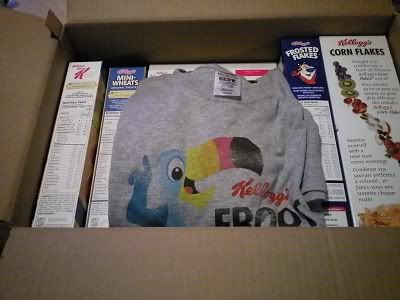 Opening the box from Kellogg's
This afternoon my boxed of Kellogg's goodness arrived at my door. It contained 4 boxes of cereal including my daughters favourite cereal, Kellogg's Mini Wheats (along with Frosted Flakes, Special K Oats & Honey and Corn Flakes) which she can not wait to dig into and eat our of her new Kellogg's Corn Flakes bowl. As well as Nutri-Grain Bars in
NEW
flavours Strawberry/Acai and Cherry/Pomegranate. I was very surprised to find a Fruit Loops t-shirt along with 2 Kellogg's corn flake bowls.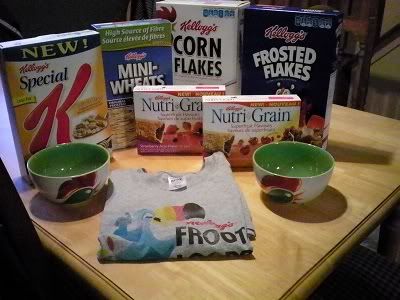 Kellogg's Network Box
Three neat facts about Kellogg's:
Eggo Waffles recently celebrated their 75th Birthday!
In 1969 Kellogg's was honoured to provide breakfast for Buzz Aldrin, Neil Armstrong and Michael Collins during their groundbreaking Apollo 11 voyage to the moon.
Tony the Tiger was born in 1951, but we don't think he looks a day over 40.
Opened the box that evening for bedtime snack!
For more information about Kellogg's and their products please visit
www.Kelloggs.ca
What is your favourite Kellogg's cereal? Please comment below.
Disclosure: This post was written in participation with the Canada Kellogger's Network. No post was required. I was provided products without charge. All opinions are honest and those of It's just my life...