I confess... & Five Question Friday
I confess... that I am munching on people chow right now (not good supposed to be eating healthy)
I confess... I broke my no pop/soda this year rule already... boo me!
I confess... that I want more snow... or snow started melting today.
I confess... that my 7 year old daughter won't go to sleep on her own and it is seriously getting to be a HUGE situation.
I confess... that I am not ready to get back to homeschooling next week.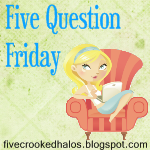 1. What is the weather like where you are and do you like it?
We currently still have snow but it is starting to melt.. definitely not season temperatures I want more snow.
2. When you're sick what do you seek comfort from?
Tomato soup... really the only time I like to eat it.
3. What do you need to do before the end of the month?
Get my eating back on track and do my 3 on 30 list.
4. Have you ever served on a jury?
Nope... went but they turned me away.
5. If you could be any animal, what would you be and why?
I would love to be a lap dog just like my dog... quite the life if you ask me.