My Love of Tea....
I love love love loose leaf tea!!!! Here is a sample of some of my teas. I need to purchase more jars to put the rest of them in to so they can keep fresh.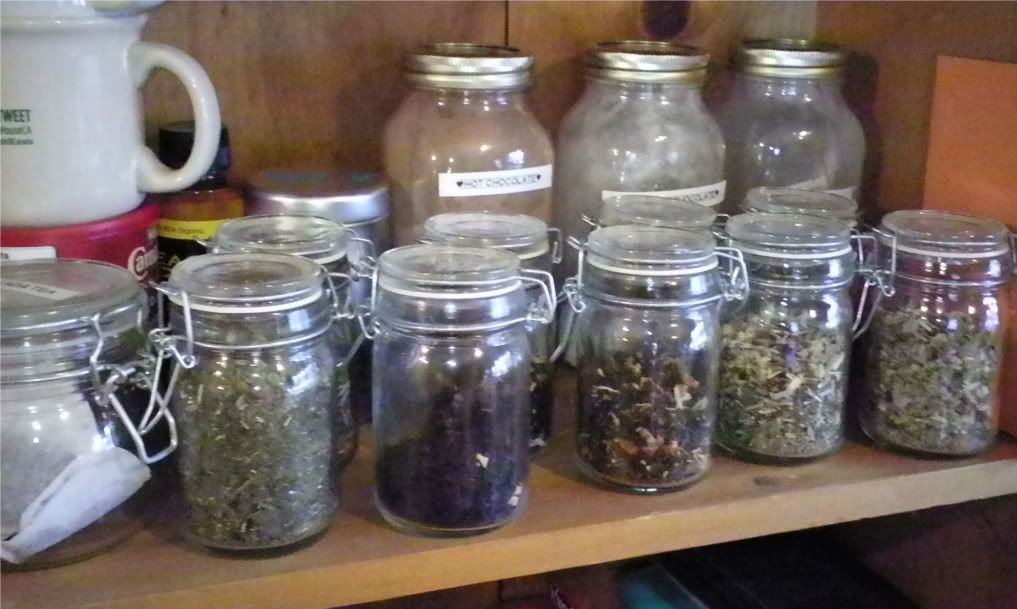 Some teas I have
One of my favourite places to pick up new teas and not to mention try them also is
The Tea Haus
. They are wonderful. My favourite tea of all time is Valentino and it is sold at
The Tea Haus
in London. I can not be without it and when my jar is getting down a little low I know I have to make a tea run which was just the case last week. Tea run to the tea house after visiting my dear friend in the hospital in London.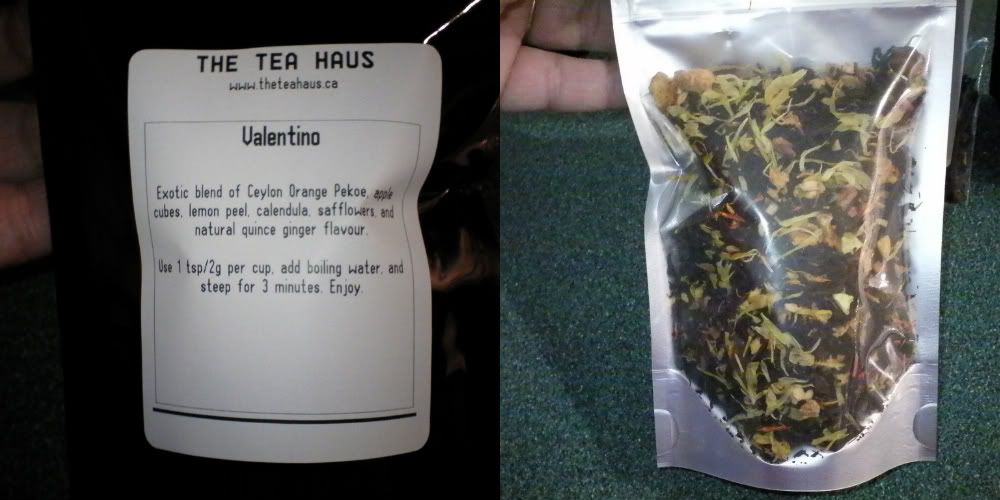 Valetino Tea doesn't it look beautiful!
Valentino is a black tea with an exotic blend of quince ginger and different fruits.... ingredients Ceylon orange pekoe, apple cubes, lemon peel, calendula petals and safflower, and natural quince ginger flavour. I thank my oldest daughter for bringing this home to me a few years ago... I haven't been without it since.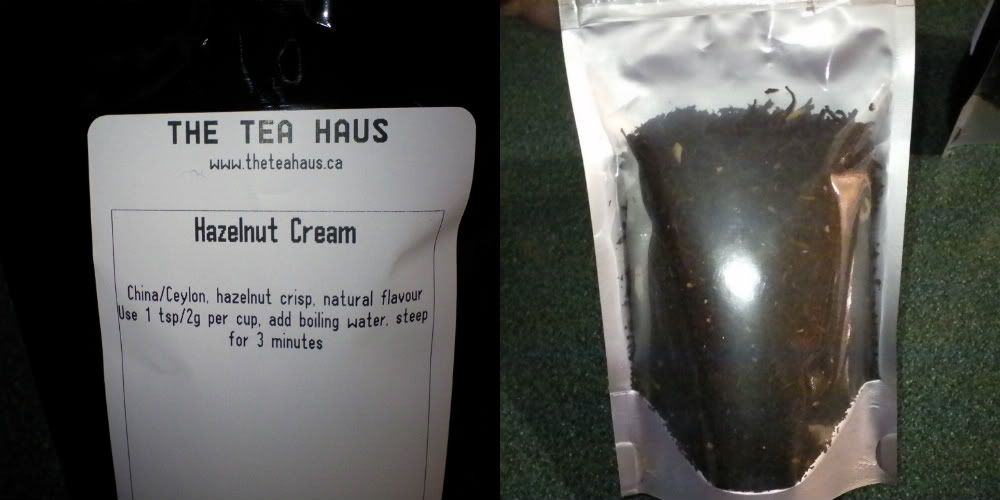 Hazelnut Cream
Hazelnut Cream is another black tea that was recommended to me by the wonderful employee at
The Tea Haus
. I just said I love Valentino can you recommend any other teas to me... I have a very broad tea range that I like. Hazelnut Cream is a warm, creamy blend of Cina and Ceylon teas, hazelnut crisp, caramel pieces, natural flavours ... ingredients a blend of Cina and Ceylon teas, hazelnut crisp, caramel pieces, natural flavour.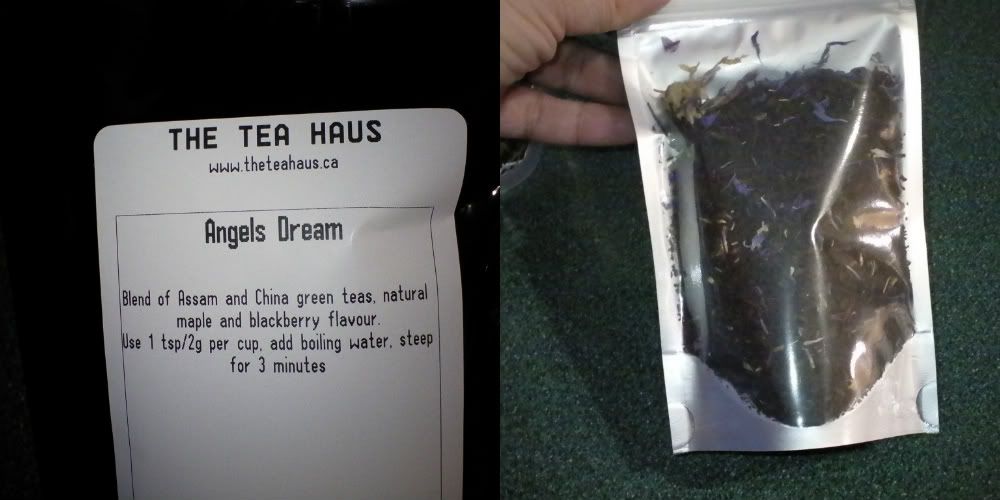 Angels Dream
Another recommendation that was given to me the same day that did not disappoint me was Angels Dream. Angels Dream is another black tea that is accented with natural maple and blackberry flavour ... ingredients blend of Sri Lankan, Assam and China green teas, natural maple and blackberry flavour, mallow and cornflower petals.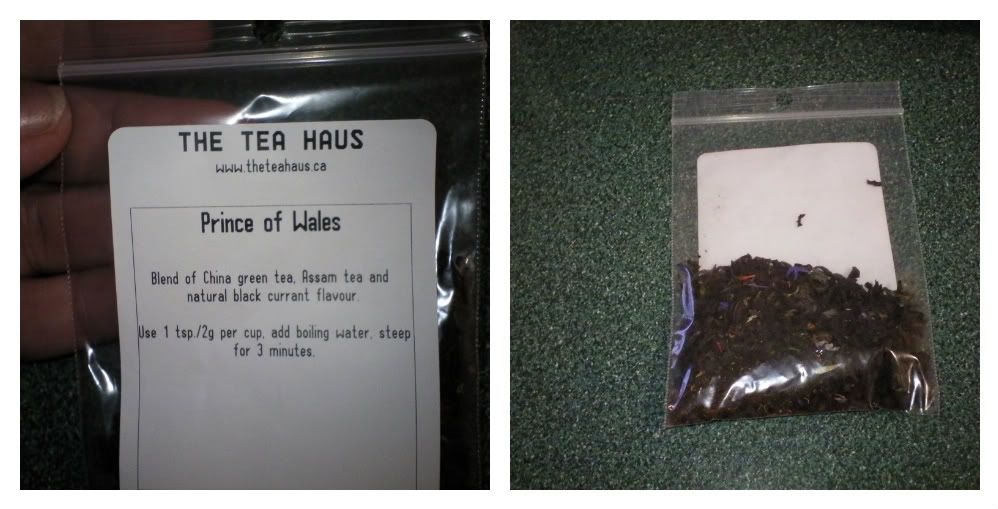 Prince of Wales
They also gave me a sample of Prince of Wales tea... it is a full body black tea. I just noticed that all I got this time was black teas. I think last time it was green teas. Anyway Prince of Wales leaves are flavoured with natural black currant, which gives the tea a hint of sweetness. The infusion is dark red in colour. After having the sample I will definitely be picking up some more my next visit in. I will say the sample really paid off.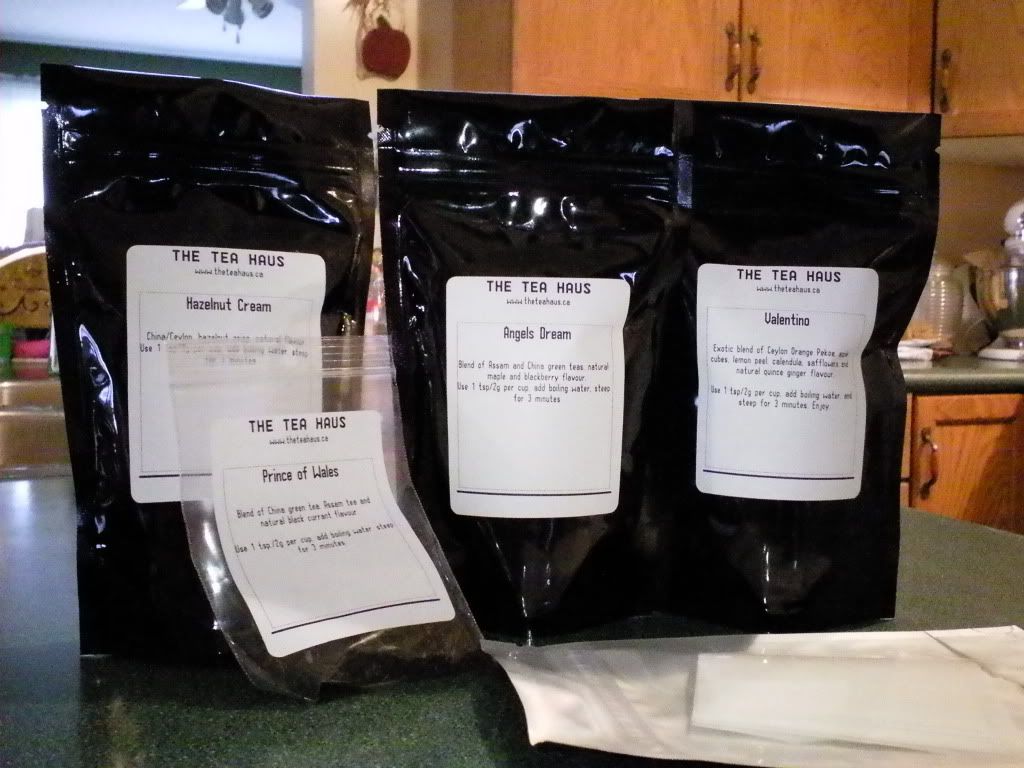 Now as most of you know price point is the most important part to me. Okay when it comes to tea taste is important also. But back to the price now... for all you see here it was around $10 for 3 teas.. 50g... on sample 10g and we had a conversation about my friend in the hospital how she was looking for an infuser and how I needed to bring her to The Tea Haus when she was out of the hospital so she could choose one. Well the wonderful employee was kind enough to give me some tea filters to tie her over until I could bring her in. So Debbie I have some filters for you so you can enjoy the tea you were telling me about.
This blog post was just inspired this morning as I was trying to pick what kind of tea I was going to have an then I realized how much I love my teas and how much I love Valentino from
The Tea Haus
in London. Then I realized I have never shared it all with all of you! So take a look at their website even if you are not in London as they offer free shipping with orders over $49 in Canada.
NOTE: So sorry to the wonderful employee that served me... I completely forgot your name but if you do see this blog post please forward me your name so that I can add it to my post. (if you want)
I was in no way compensated for this post. This post was done to let others know the wonderful service I received at this establishment. All opinions are 100% my own - as always.