I got a facelift!
Truth be told my blog got a facelift. I have been toying with the idea of redoing it and yes I know how to do the encoding and make changes but I wanted something unique to me. A nice header, matching facebook timeline, matching media kit the works. So a dear friend of mine Jodi,
from Rants Designs
, gotta love this girl she works quick and is great with communicating and listening to what I want.
I was looking for something that screamed ME! She decided to use a character girl (provided by Chihhang) designer and changed the hair color and eye color to match me. I just love the girlie and in the header she had my one and only furbaby, Cheyenne, seated right beside me. Cheyenne is always right beside wanting all the attention so this is beyond fitting. I love that I am looking at my family in the frames on the wall. My family is very important to me and I always have pictures of them on display.
Then there is the social networking buttons on the top right made for me again! Oh my heck do I feel selfish or what seems like it is all about me right now. Jodi made me a cute little matching button (see below) so you can all share my blog on your blog and if you do please be sure to tell me because I would love to do the same.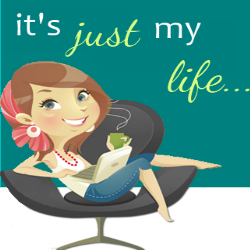 Since my family is getting a sort of makeover with our move to the big city I thought my blog needed to catch up with my family. So welcome to my new blog facelift. I plan on tweaking a few things yet but pretty much it is a done deal.
Thanks again Jodi... be sure to go check out Jodi and the wonderful work she produces over at her blog:
Rants n' Rascals
. And please let me know what you think of my new facelift!