Adjusting to a smaller living space...
As most of my readers are aware I have moved from my small city to a very large city and with that change also came moving from a house to an apartment/condo. In the process we lost 3 bedrooms but we still have 3 bedrooms. We are trying to maximize our space efficiency without our home looking cluttered because deep down we are minimalist. There are some things I can't do much about and one of those things is school books. Since I do homeschool my daughter we do have lots of books available to her to learn from. I just have to find a way to hide it behind doors.
Can't believe I am sharing this moving in picture with you look at this chaos!
We have added a sofa bed to our living room so people can spend the night. We have a loft bed in our youngest daughters room that helps give her more floor space so that she can have her stuff underneath the bed like toys and barbie house. I also have an iris cart in her closet for her crafts and games that she plays. Her room is organized right down to every square inch and everything has a place/home.
Our third bedroom in the house isn't quiet the same. Our daughter is staying their for the summer before she heads off to university this September. So we have a daybed in there with a trundle bed underneath to allow two people to share this room. The room isn't very big but it seems to work for now.
My master bedroom is not only our bedroom but also my craft area all in one. I left behind my beloved craft room when we left the house but I didn't leave behind my love for crafts. I love many different crafts and truly do need a dedicated space for this.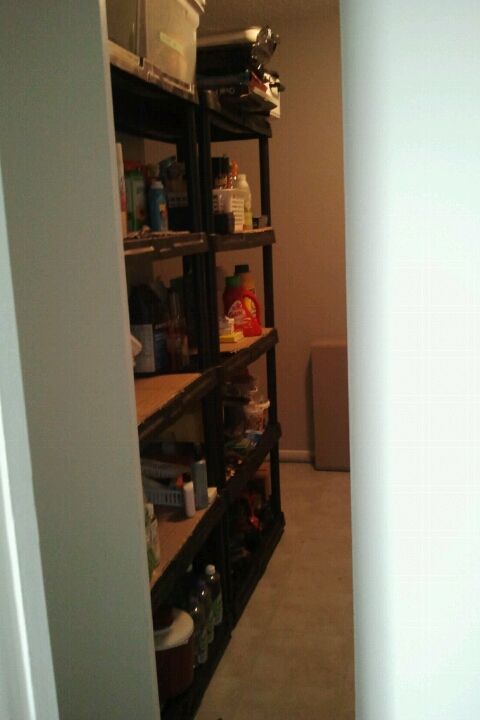 We have added shelves to our laundry/storage room so that does help with some storage options. I still feel as though we brought to much with us. This is after countless trips to the dump and countless boxes being donated to others with a need.
Do you have any neat storage ideas? Or better yet ways you have utilized a space to make the most out of it? Do you have ways to hide school books but still have them accessible? These are just a few of my pet peeves. I like to have minimal stuff in my house and yet I don't see much in the house but it seems what I do have is taking over. I don't like the feeling of stuff taking over my living space. I like space and lots of it.
I find clutter stifles my creativity and doesn't allow me to do my best work. This is a problem both as a blogger and as a crafter.
Well I am off to search the web for neat storage solutions for my home. Please feel free to share any ideas you may have as they would be greatly appreciated.