Attacked by my bed...
Just as you suspect... I was setting up my queen size bed ... by myself because I wanted my husband to be able to sleep in it once he got back from London. He has been on the road for over 10 hours that is just driving time not including moving all our stuff. So I want him to be able to sleep in his own bed tonight for sure.
So I get the frame all set up no problem. I got it tightened down and it was time to put the boxspring on the frame... metal frame I might add. I reach out to try to get a gripe of the boxspring and the boxspring starts falling on top of me. Pinning me down and into the metal frame. I can feel a bit of pain but it passes quickly as I see a whole pile of boxes that are starting to fall. I race to grab then along with my daughter Stephanie who is now helping me. Could have been my scream as I was being pinned down by the boxspring but together we were able to stop the boxes from falling.
Catastrophe
averted most definitely! Those boxes would have fallen right on my head while I was basically pinned. We get the boxspring on the frame and then the mattress and it is then that I can feel the pain. My foot is beyond sore and the skin is all ripped up on my right lower leg as well as a nice size lump is coming up. WONDERFUL!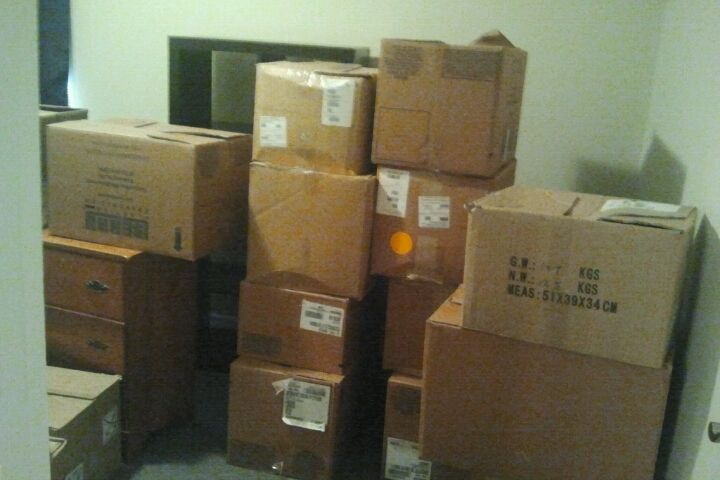 It was one of these many tower of boxes that started to fall.
A few hours later I take my runners off knowing it won't be going on my foot for a while with the swelling and bruising I can feel happening. But I do it anyway. Yep, foot is swollen, bruising quite nicely. No surprise there. But today I will say is Friday and the swelling is gone, bruising is very slight and all you can see is the scrapping on my right let from the original incident. I am thankful it wasn't worse. I do know it is still there with the bruising but I can do what ever I want and it is not limiting me.