Home Comfort Giveaway
Starting September 10, 2012, it's your chance to win a humidifier, installed by Aire One Heating and Cooling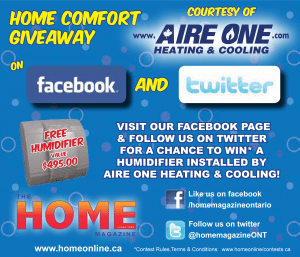 The Home Magazine is the only publication dedicated to home renovations and improvements and is delivered directly to over 950,000 homes throughout South Central Ontario every issue. They bring quality home improvers/renovators to your door 9 times per year and all are available at
www.homeonline.ca
24/7. For many years Ontarians have trusted Aire One Heating and Cooling for their comfort where they live, work, and play. Furnaces, Air Conditioners, Water Heaters, Fireplaces, Humidifiers, and Air Cleaners are some of the products that they sell, install, maintain, and service. Aire One is a well-recognized brand for home comfort quality service in the mid-western Ontario. Aire One offices are located within easy reach for the residents of this region in Markham, Hamilton, Mississauga, Kitchener, Waterloo, Whitby, Newmarket, Barrie, Toronto, and London, Ontario. Don't miss your chance to win and improve your indoor home comfort. Home Magazine is celebrating the Great Canadian Renovation Season with Aire One and 15 of our nation's most fabulous bloggers.
How to Enter Today!
The more social media profiles you like, the more chances you have to win this fantastic prize. We can't wait to show you what we have in store for the remainder of the year!
Enter Our First Home Comfort Contest Today!