NIVEA and Plan Canada Have Teamed Up!
As a homeschooling mom I take education seriously. I am free to homeschool my daughter for her education but for some even homeschool is not an option. There are many children who can not get an education. We are beyond blessed here in Canada with the options for education that we do have.
When I was told about a brand and their partnership with helping those who truly needed it; I jumped at the chance to let my readers become aware of this opportunity to get involved and help out even further.
"NIVEA is excited to partner with Plan Canada on a local level to support the Senegal project," says Carole Rissmann, Marketing Director of Beiersdorf Canada for Beiersdorf Canada. "Care' is the very essence of what NIVEA as an organization stands for. We believe that every child should have access to quality education and this is a rudimentary yet powerful way to build a brighter future for children. Your purchase of NIVEA product in Canada will help give so many access to better education."
According to UNICEF, in Senegal alone, 3 out of 5 kids don't have access to education. In today's world, no matter where you live, having an education is an essential part of life. Without it there is no hope of employment, no hope of income and no hope for food on the table to survive. It is a vicious cycle.
"Every child deserves access to a quality education and in countries like Senegal, where so many children and their families live in poverty, an education is the only way for them to claim a brighter future and realize their full potential," says Rosemary McCarney, President and CEO for Plan Canada. "Our partnership with NIVEA means we'll be able to build more schools, provide more qualified teachers and materials, and create lasting change in children's lives."
How can YOU help make a difference with NIVEA Canada and Plan Canada?
To find out more about the Plan Canada and NIVEA Canada Senegal Project and how the purchase of any NIVEA product will help contribute to a better education, information will be available at
www.NIVEA.ca
or on the 'We Care & Connect' tab on our Facebook page at
Facebook.com/NIVEACanada
beginning in August.
WIN!
To celebrate the partnership of NIVEA Canada and Plan Canada, we are giving away a special "We Care & Connect" Pure and Natural face cream and lip balm to one lucky It's just my life... reader!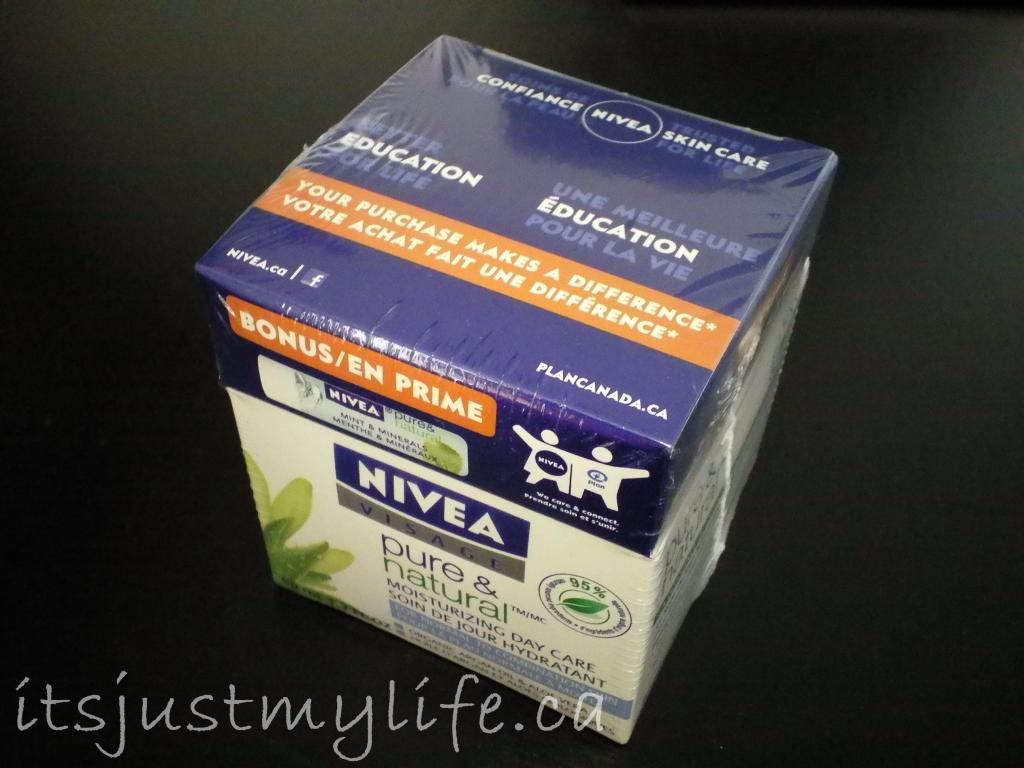 Giveaway Rules:
Each entry must be accomplished exactly as it is stated, including providing anything in the "Extra Info" field, for it to count.

You can perform each entry type ONE TIME ONLY unless otherwise specified.
If there is a "leave a comment" entry type, be sure the name you type in the comment's name field is EXACTLY the same as the name you use in the form (this is so I can verify your comment).
Make sure to leave a VALID email address in the Rafflecopter's email field so I can contact you if you win (or ensure your Facebook account's primary email address is one I can contact you by).
If you already follow/like me or the company via G+, Google Friend Connect, Twitter, Facebook, etc., that's okay–the entries still count.
If contacted as the winner you have 24 hours to reply.
GIVEAWAY ENDS
WEDNESDAY, OCTOBER 3, 2012 ~ 12:01 AM EST
Open to Canada ONLY
** Disclosure: Posted by It's just my life... on behalf of NIVEA Canada and Plan Canada. We received a complimentary prize pack as a thank you. Opinions and comments on this blog are those of the author. Giveaway prize provided by representatives of NIVEA Canada and Plan Canada. **