A JOY to SHARE with Kinder #KinderMom
This year we have been blessed in so many ways since we moved to Toronto. We found angel tree with children's names and age on them and picked off two names and blessed them with gifts. I had my 8 year old daughter with me to do the shopping for them. It is important that she realizes that not everyone has everything they need. She is a very fortunate to have all her needs met and enjoy some extra wants in her life. As her parent it is important for me to teach this to her. I am also joining her on the giving and plan on blessing a family I know could use something extra this holiday season and who is trying to hard to make a go of things. I am going to be a sneaky about this so they have know idea it was from us. Bringing some joy to others is wonderful to do. Show them some love by spreading love.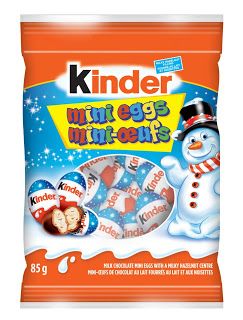 As a KinderMom a wonderful package of Kinder was delivered to my house again this month. I have tucked it away for some holiday treats at Christmas. But Kinder is not only sharing some joy with me they want to share some with you also with their A JOY to SHARE. KINDER® Canada will be giving away 7,500 coupons to enjoy their delicious Kinder® Mini Eggs, for free! This giveaway will begin on November 26th and will last for 10 weekdays, giving out 750 coupons each day at 12pm ET. This is exclusive for
KINDER®'s Facebook
community and is celebrating KINDER®'s 'A Joy To Share' program in support of Children's Miracle Network of Canada!
Here is an easy way for you to give back:
Please take a moment to watch the
Martin Family story
. Share it with your friends and family to help encourage donations to the Children's Miracle Network. For every share of the video, Kinder will donate $1 to the Children's Miracle Network, up to $5,000.
How are you giving back this year? How are you teaching you children to give back?
"Disclosure: I'm part of the Kinder® Mom program and I receive special perks as part of my affiliation with this group. The opinions on this blog are my own."