Dog With A Blog a Night of Premieres on Family Channel
As a blogger I am excited to share the new series coming to Family Channel. Dog With A Blog is new live-action Disney Channel comedy is unleashed on Friday, November 23 at 5 p.m. ET/PT and follows a blended family and their newly adopted dog, Stan, who talks and blogs about his owners' exploits.
Told from a canine point of view, Dog With A Blog follows Stan; step-siblings, Tyler, Avery and Chloe; and parents Bennett and Ellen as they adjust to life as a new family. Tyler and Avery don't exactly get along so to bring the newly merged family together, Bennett adopts a shelter dog named Stan. When Tyler and Avery discover their new canine friend has the gift of gab, the siblings work together to keep it a secret. Stan gets the kids into hairy situations – blogging about his adventures along the way – but his presence ultimately helps unite the family.
The dog days continue at
Family.ca
where visitors can read Stan's blog posts and learn more about his family. Family OnDemand also offers new episodes of Dog With A Blog as they become available weekly starting November 23.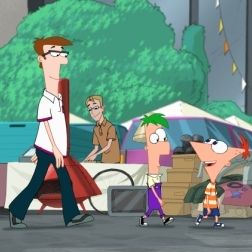 The series premiere of Dog With A Blog joins a Night of Premieres programming line-up starting at 4 p.m. ET/PT. Kicking off the night is a new episode of Phineas and Ferb. The boys put on a professional magic show under a tent in the backyard, while Doof tries to become hip and cool to acquire youthful followers.
At 4:30 p.m. ET/PT, Dipper feels self-conscious that Mabel is taller than him and searches for a magic way to grow taller in a new episode of Gravity Falls.
Following the premiere of Dog With A Blog, Amy heads back to work at the hospital in Good Luck Charlie airing at 5:30 p.m. ET/PT, leaving the rest of the Duncan family to help watch Toby and Charlie.
Rocky and CeCe discover the entire studio has burned to the ground in Shake It Up at 6 p.m. ET/PT. CeCe realizes she may have been the cause and worries about the repercussions of confessing.

In a new episode of Austin & Ally at 6:30 p.m. ET/PT, Trish recommends a dancer for Austin's next music video without revealing that she is dating him. But when Ally overhears the dancer say that he used Trish to get the gig, she must let her friend in on the truth.
** Disclosure: Posted by It's just my life... on behalf of Astral Television Networks. Images and information provided by Astral Television Networks. Opinions and comments on this blog are those of the author. **