Friday, December 7, 2012
Are you allergic to milk or have sensitivities to milk products? Are you looking for a dairy-free alternative to milk that is high in calcium and fortified with vitamins. If you answered yes to any of these questions than earth's own Almond Fresh might be an option for you.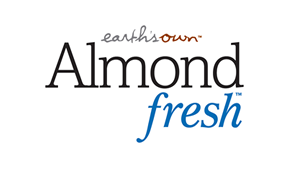 I have spent my whole life allergic to milk. As a baby my parents used to purchase goat's milk for me to drink. I have one words to say about that YUCK! Now I exclusively drink Almond Milk. I was sent some earth's own Almond Fresh to try and this time I decided to grab the Vanilla Flavour since I usually use my Almond Milk in smoothies and thought it would be nice to add some flavour to my smoothie.
The texture of earth's own Almond Milk was very light and refreshing. Almond fresh comes in many different varities like Chocolate, Vanilla, Unsweetened, Sweetened, Coconut and just in time for the Holiday season Noel Nog. Noel Nog is a NEW dairy-free and egg-free holiday nog. It is also a fortified almond beverage. And a 250ml glass is only 100 calories!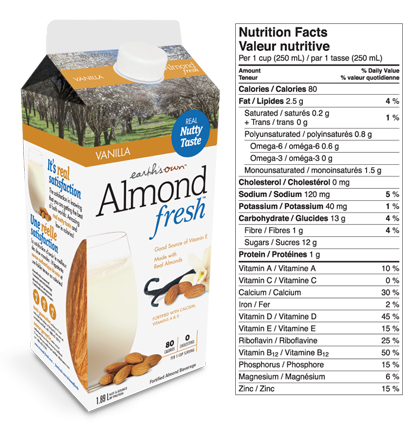 The benefits of Almond fresh -
Low in calories and one serve provides 45% of your daily recommended dose of vitamin D, 25% of Riboflavin, and 50% of B12
Dairy-free and does not contain lactose or casein
Fortified with calcium, vitamin A and vitamin D and contains naturally occurring vitamin E, riboflavin, vitamin B12, iron, phosphorus, magnesium and zinc
Almond Fresh Vanilla and Original have about half the calories per serving of 2% milk and is comparable in fat.
The Unsweetened flavour contains only 30 calories per serving- that's half of the calories found in skim milk
Almond Fresh products are wheat and gluten free
Certified kosher
You can also connect with
Almond Fresh
on
facebook
.
WIN!
earth's own is offering $20 worth of Almond Fresh™ product vouchers as a giveaway for one lucky It's just my life... reader!
Giveaway Rules:
Each entry must be accomplished exactly as it is stated, including providing anything in the "Extra Info" field, for it to count.
You can perform each entry type ONE TIME ONLY unless otherwise specified.
If there is a "leave a comment" entry type, be sure the name you type in the comment's name field is EXACTLY the same as the name you use in the form (this is so I can verify your comment).
Make sure to leave a VALID email address in the Rafflecopter's email field so I can contact you if you win (or ensure your Facebook account's primary email address is one I can contact you by).
If you already follow/like me or the company via G+, Google Friend Connect, Twitter, Facebook, etc., that's okay–the entries still count.
If contacted as the winner you have 24 hours to reply.
Entry is via the Rafflecopter widget below.
The DEADLINE:
GIVEAWAY ENDS
MONDAY, DECEMBER 17, 2012 ~ 12:00 AM EST
Open to Canada ONLY
WINNER: C

heryl G.
** Disclosure: Posted by It's just my life... I was provided promotional material free of charge, by the manufacturer or a representing PR agency, in hopes that it would be mentioned on my blog with my honest and unbiased opinion.
Images and information provided by earth's own.
The opinions and comments on this blog are those of the author. **