Embrace, my word for 2013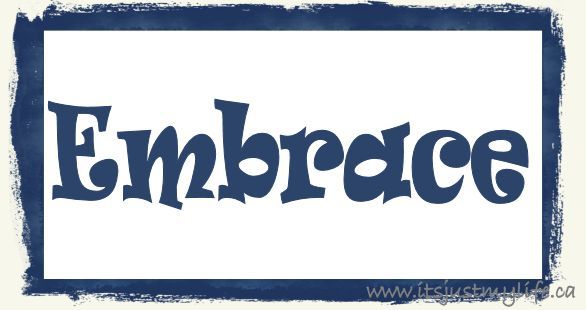 As I think ahead and pray about 2013 a word comes to mind and stands out like no other word. That word would be EMBRACE. There has been so much going on in December 2012 or in 2012 in general that a word like embrace will definitely be something I do with 2013.
I plan to EMBRACE my time with family and friends, time is fleeting and we never know how long we have with the people in our life so live now and let them know you love them. Don't take anything for granted.
I want to EMBRACE all the moments of my days. I want to live in the moment and not let it pass me by. This means embracing both the happy and sad moments.
I will EMBRACE what is important to me. My relationship with the Lord, Husband and Children. I will continue to grow in these relationships.
I plan to EMBRACE my creativity with my love of pictures and scrapbooking those memories to share with others. Also allows me to learn my new camera and figure out how to use all the settings.
Lets take a look at the Definition:
to take or receive gladly or eagerly;
accept willingly to take in with the eye
or the mind to take or clasp in the arms; hug
Thesaurus:
welcome
take in arms
adopt
accept
seize
grasp

Behold, I am doing a new thing;
now it springs forth, do you not perceive it?
I will make a way in the wilderness
and rivers in the desert.
- Isaiah 43:19 ESV


This word fits me perfectly right now with our move to Toronto this past July there are still so many changes to come with this move to the big city. Going to continue embrace my life in Toronto and all the new experiences that will come my way.
I can not change things that happen in my life and therefore this year I plan to EMBRACE them all lovingly knowing that their is a reason for everything.