We are getting Egg-cited! #Kindermom
Easter is less than a month away and all the Kinder® goodies are on the shelves ready to make your Easter a Kinder® good time. Look what Kinder® has in store for us this Easter!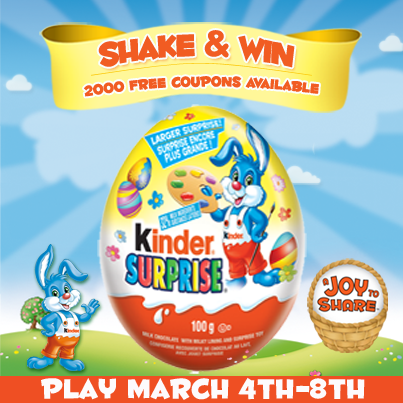 Kinder® 'Shake & Win' Contest:
March 4th through until the 8th ONLY
To kick off the sharing, Kinder® Canada will be launching a fun 'Shake & Win' Instant Win Contest on their Facebook page, with 1,000 free Kinder® Mini Eggs coupons and 1,000 free Kinder® Surprise® 100g Egg coupons up for grabs over five straight weekdays! Stop by their
Facebook page
will have one chance each day to WIN by "shaking" a Kinder® Egg.
Kinder® Canada will be supporting Children's Miracle Network of Canada by donating $1 up to $25,000 for every new friend they get on their Facebook page from March 1st to 31st.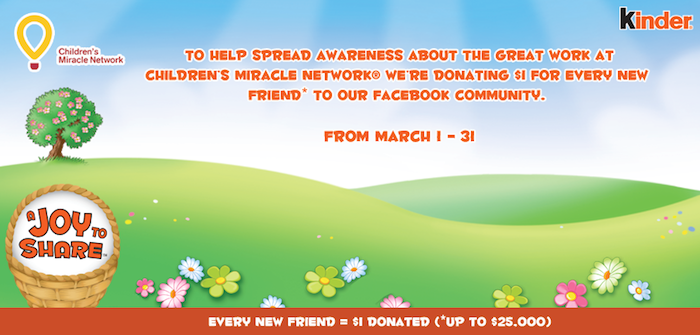 So if you haven't already go stop by
Kinder® Canada on Facebook
and spread the word of what Kinder® is doing to help children across Canada.
Harry will be making surprise appearances at family events in Toronto, Montreal, Calgary & Vancouver this March to celebrate Easter and spread the joy with FREE samples of Kinder® Mini eggs. Stay up to date on where Harry will be by checking the
Kinder® Canada Facebook page
New toys can be found in their Kinder Surprise Maxi 150g and Kinder Surprise 100g this year. You'll be delighted to discover Kinder goodness you've never seen before such as the Kinder® Surprise® Egg Painting Kit or the Kinder® Mini Eggs in 35g format with their brand-new 'Easter' Gallery on Facebook. Go check then out and be sure to vote for your
favourite here
!
"Disclosure: I'm part of the Kinder® Mom program and I receive special perks as part of my affiliation with this group. The opinions on this blog are my own."