Wednesday, May 15, 2013
If your life is anything like mine it means you are on the go a lot and do no take enough time for yourself. It seems like I have a lot of things that get in the way of taking time for me – laundry, housecleaning, homeschooling, family commitments and life in general. Not that I do not enjoy all of these things but a day of pampering is just the ticket for me to repair, relax and refresh not just for myself but it changes my over all attitude when I am dealing with daily life.
Most days I only have time for a quick shower before mommy duties call me into action. I have been using Pantene Pro-V Repair & Protect Collection on my hair, it can help repair six months of visible signs of damage in just one use. The weightless, non-sticky serum resurfaces hair at its weakest points and helps to restore hair while you sleep for a healthy looking start each morning. I thought my hair was healthy until I started using this and could feel the difference it made on my hair. My hair now feels softer and silky smooth.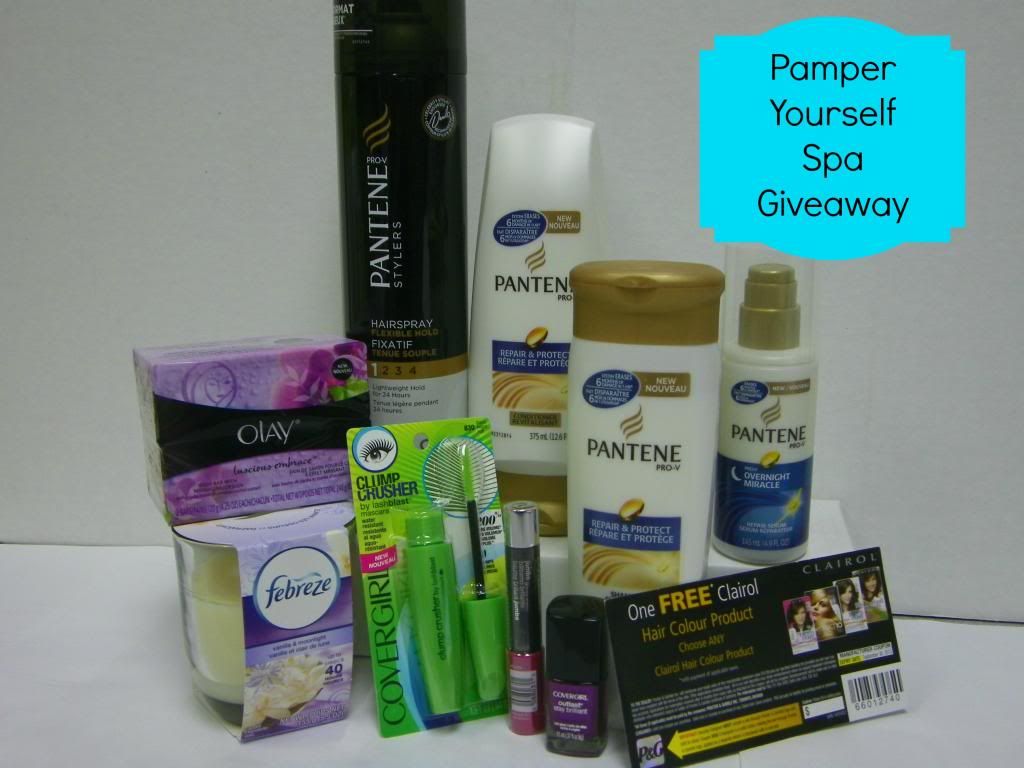 Here's your chance to try it for yourself as well as some other wonderful products, one of It's just my life... readers has a chance to win the prize pack pictured above,
P&G Spa giveaway valued at $95*. The bundle includes:
Febreze Vanilla & Moonlight Candle
Pantene Repair & Protect Conditioner
Pantene Repair & Protect Shampoo
Pantene Overnight Miracle Repair Serum
Pantene Stylers Hairspray Flexible Hold
COVERGIRL Outlast Stay Brilliant Nail Gloss Grapevine
COVERGIRL LashBlast Clump Crusher Mascara
Olay Massaging Bar Soap
One Free Clairol Hair Colour Coupon
COVERGIRL LipPerfection Jumbo Gloss Balm
GIVEAWAY ENDS
MONDAY, JUNE 10, 2013 ~ 11:59 PM EST
Open to Canada ONLY.
Pamper Yourself - Spa Giveaway (arv $95)
Disclosure: I am a P&G Mom and I was provided with product to test. My opinions are my own.
By entering the following contest you are accepting that if you win your contact information will be shared with a P&G PR and shipping agency for the purpose of mailing your prize. Please allow 4-6 weeks from the contest closure date to receive your prize.
This giveaway may appear on other blogs as part of the #PGmom program. However, to be fair, you can only win once per giveaway. If your name is chosen more than once, another winner will be selected.