Pantry Planning Meals with Annie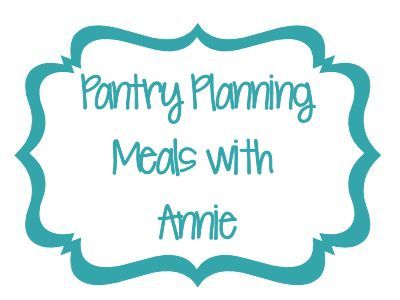 I love to start my week by planning my menu plan for the week for my family. I find we function a whole lot better when I do things this way. It takes the guess work out of meal planning for my week. One more than I can check off my to do list before my day gets started. This week is a bit different because I need meals at home for my dog sitter who happens to be my son. He will be staying for three days looking after my furbaby. At the same time we will be out of town for a few days so eating out and for me busy at a conference.
One of the other things I prefer to do is to not have to run out and purchase the items for my meal planning for the week. I like to use up what we already have in our house. We are a homeschooling family and because of that I like to plan all three of our meals so that I know I have what I need on hand to make our meals for the week.
Monday (11am - piano, 1pm - field trip)
Breakfast - juice, fresh fruit, yogurt
Lunch - soap, grilled cheese, milk
Dinner - pork loin, rice, veggies
Tuesday (errands in London, 6pm - run club, 6pm - hubby exam)
Breakfast - waffles, fruit, juice
Lunch - HM pizza
Dinner - steak, potatoes, veggies
Wednesday (2pm - Library group)
Breakfast - oatmeal, juice
Lunch - chicken nuggets, mac n' cheese, milk
Dinner -
Thursday (I leave for Blissdom)
Breakfast - bagel, juice, tea
Lunch - HM subs, pickles, milk
Dinner - *away
Friday (family joins me at hotel)
Breakfast - *away
Lunch - *away
Dinner - *away
Saturday (away)
Breakfast - *away
Lunch - *away
Dinner - *away
Sunday (away)
Breakfast - bagels, muffins, orange juice, coffee
Lunch - with Stephanie??? (out some where)
Dinner - back home
I plan to update my away menu once I know the details and my agenda for the event I am attending not to mention places near by for my family to eat at.