Organizing our Rainbow Loom
The Rainbow Loom obsession started in my house about a month ago when I spotted the Rainbow Loom at a local toy store. My daughter and I love to do crafts and I just knew this would be a craft she would love to do. As we started collecting supplies for our Rainbow Loom - I noticed that things were getting out of control. I am not the type of person who can live with things out of control. As a matter of fact I like everything in my world to be organized.
I did some searching on the internet to see if Rainbow Loom had some sort of organizer that you could buy to tame all the rubber bands in my life. Nope no such thing well not yet anyway. I am sure that is in the works considering the popularity of Rainbow Loom. So I went to my local Walmart to see if I could come up with a way to tame the bands - fast forward to the fishing tackle aisle where I spotted this little gem. A pink and purple tackle box with sections all organized to hold the rubber bands and a bottom section to hold our extras and the Rainbow Loom itself. It actually has two looms in the bottom and still has room. I was able to pick this up for only $10 which is about all I wanted to pay but cheaper than organizational alternatives I seen in the craft store.
Having all her supplies in the Rainbow Loom box allows her to just take it with her every where. Just pick up the box and she is off and looming and creating new bracelets where ever we are. We are planning on a Rainbow Loom day with friends shortly so we can all make bracelets together.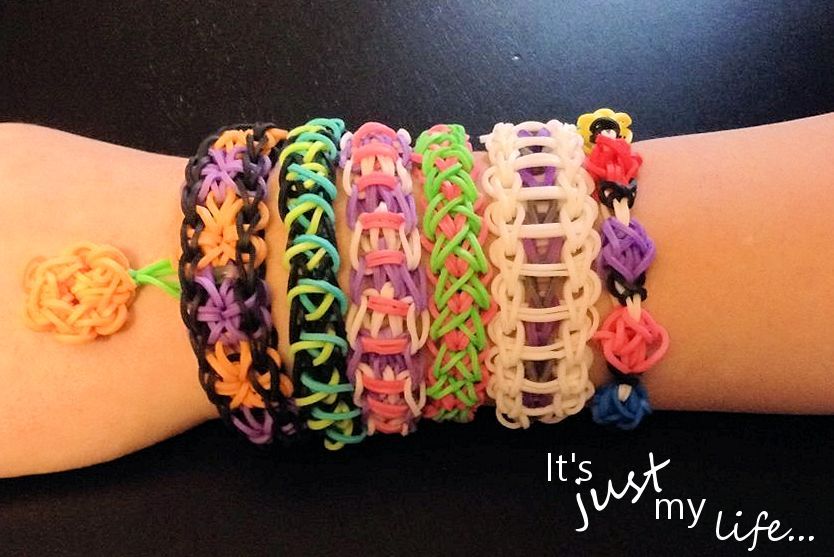 We use our Rainbow Loom every day - it really helps with my daughters low muscle tone and fine motor skills, not to mention inspiring creativity. Did any of you notice that I always say WE when I speak of crafting with the Rainbow Loom that is because I am equally obsessed with Rainbow Loom as my daughter is.
Do you do crafts? Have you heard of Rainbow Loom?