Reflecting on a year with Crohn's
I know it is not even December yet but I had a dream last night that woke me up this morning reflecting on the last year of my life, not just my life but the life of my family. I want to say first and foremost how blessed I am to have such a wonderful family, friends, readers and sponsors who have really showed us so much love over the past year - I am not sure how I would have made it without you all. A very special thank you to Stephanie, she knows who she is and more about her in another blog post for your time and talents in reaching out and helping our family in a way I can't even put into words.
At this time a year ago I can say that I spent every night crying myself to sleep knowing that my child was dying right before my eyes. This is something we don't talk a lot about but my daughter has also admitted that she also knew she was dying. This breaks my heart like nothing else has ever broken my heart.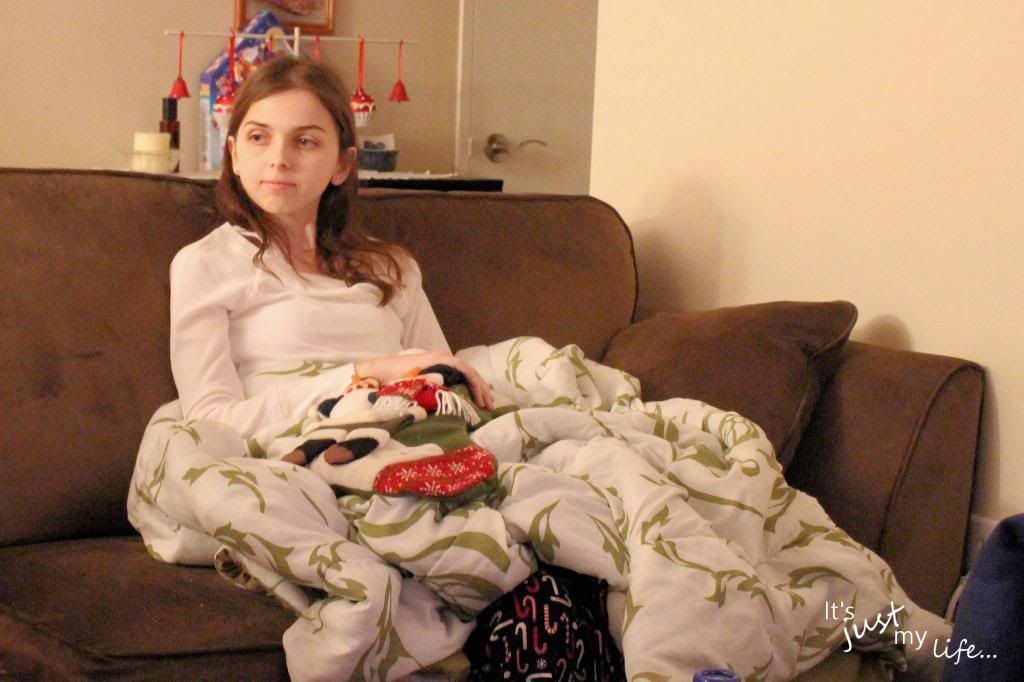 Taken December 25, 2012 (she has no memory of Christmas 2012)
In the last year my daughter has battled and still is battling some of these: organ failure, Rheumatoid arthritis, Clostridium difficile (also known as C. Diff.) and Crohns Disease. She is still here smiling every day no matter how much pain she is in - keeping a positive outlook on life as her life is put on hold as we try to get her body to put Crohns into remission.
As a mother my heart still breaks every time I look into her moon shaped face (caused by steroids she is on) and know that it is painful for her to eat and everything aches on her body all the time - yet there is nothing I can do about it but watch and pray. We try to make light of her clicking, grinding and snapping of her body as she walks and moves around the house. Knowing full well that this is happening because her body is attacking its own tissue basically the defenses that protect the body from infection instead damage normal tissue causing significant pain and mobility issues with our daughter.
This week almost a year after being diagnosed with Crohns Disease I hold on to the hope that we will be getting some answers as to why medications are not really working to help our daughter or if they do help it is only for a few weeks. She has had some genetic testing done that may give us some insight into this.
I know as a parent of a sick child I know I say the words many parents say with children in similar situations and that is I would give everything in this world to take this away from my child and take it on in her place. This has truly been one of the most difficult years of my life.
Thank you all for your love and support during this last year and as we continue to battle this horrible disease that has inflicted our daughter. Thank you to the current medical team we have there have been so amazing and treated our daughter with such compassion as they work to try to put her into remission. Thank-you from the bottom of my heart!
Much love,