Family Financial Challenge - Week 4 Clothing #SavingMadeSimple
Week 4 - Clothing
We are in the home stretch of the
Family Financial Challenge
and this weeks challenged really got down to the nitty gritty if you will. We were challenged with the need vs wants. This is one of my favourite kind of challenges. We have been hit over and over again in our household by economic issues so we are used to the need vs want but this was a great reminder that we still have too much.
This week I decided to take on my coat closet area. When I counted all the coats I had in there it was kind of embarrassing. We have now lived in our house for ten months which is more than long enough to go through all four seasons which also means if I haven't worn it yet I am probably not going to wear it - end of story.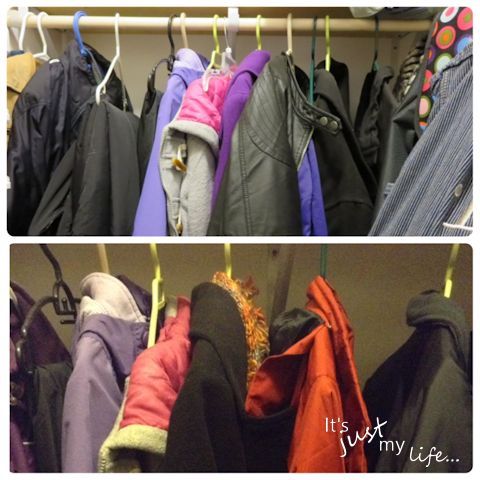 I took a good look at all the coats in the closet and over half of them were mine. Some of my family was hanging their coats on pegs because I took all the room up with my coats. When the purge was complete I had pruned out five of my coats - coats from all seasons were going into the donate bag.
The good thing about the donate bag was that my oldest daughter seen the bag and asked me if it was for donations and I said it most certainly is and she came out of her room with a pile of stuff to donate. Purging stuff out is infectious in a good way! I was said to bid farewell to some of the coats but realized they deserved to be loved and worn and that wasn't going to happen in this household.
Earlier in the month, we put a closet organizer into my youngest daughter's closet and I boxed up tons of clothes that are too small for her and put her summer clothes away because her closet can not just hold all the clothes. I took inventory of a few things she is going to need for spring and summer and made a list that I keep in my planner and on my phone.
I will definitely cruising the thrift stores for her needs this summer because kids just grow so fast and I just cry paying full price for anything I can get already loved. When my daughter was younger I used to frequent Mom to Mom sales to buy her wardrobe but I find as she has gotten older finding large sizes at Mom to Mom sales is next to impossible so I tend to look in our local thrift stores and on kijiji for deals on clothing for her.
Up until the last two years I have always sold my daughters clothing at local Mom to Mom sales but as her sizing has gotten larger I find it is easier to sell her clothes on local buy & sell groups on facebook. I have always gotten a good dollar in return for all her clothing - I know that is because I look after the clothing she does have. I make sure all stains are out of the clothing every time they are washed.
I am pleased to say I now have a new helper when it comes to removing stains from our clothing - Tide Simply Fresh & Clean (available March 2014) has 2x the baking soda cleaning power of the leading competitor! It also gets deep down into the fibers of your garments to remove the particles that cause the odours! Dirt out, Odour out, Great Value! All from a trusted brand like Tide.
The first time I used this detergent is when I did a load of towels and I am happy to say that all the lip gloss stains that were put there by my little girlie were gone without pre-treating the towels! As I pulled them out of the dryer I looked for the stains and they were gone. It made my day!
Do you purge your clothing regularly? Do you donate your clothes locally or sell them online?
Visit my other Family Financial Challenge Posts:
Disclosure: I am a P&Gmom/mamanP&G. As part of my affiliation with this group I receive products and special access to P&G events and opportunities. The opinions on this blog are my own.